Web Tension Load Cell
Model: BWB-09
Web Tension Load Cell measure web tension forces applied across a roll, using integral horizontal and/ or vertical axis sensors.
Weighing Solutions Combine precision strain gauge force transducers with dead shaft mounting options to produce the highest accuracy for direct on line sensing of tension in moving paper, films, foils, wires and cables. Best Load cells, developed for web tension applications, incorporate a differential bending beam design with a full wheatstone bridge strain gauge configuration. This design provides stable, accurate, and repeatable measurements over a wide of operating tensions while virtually eliminating temperature drift.
All capacities are equipped with mechanical overload protection. Available with a mounting configuration for dead shaft applications(with horizontal or vertical support surfaces).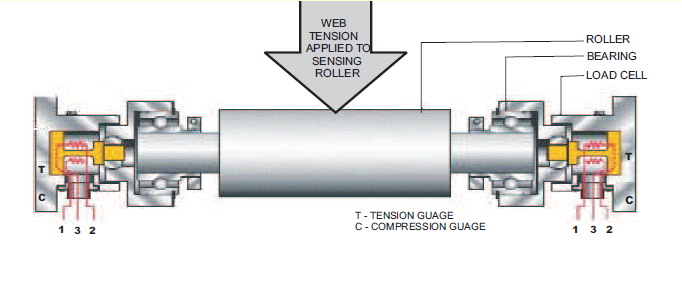 Web tension load cells measure web tension forces applied across a roll, using integral horizontal and / or vertical axis sensors. This innovative and exclusive approach to web tension force measurement enables accurate determination of the true resultant force as well as the applied angle. Not only does this permit installation and measurement at any mounting angle or roll orientation, it also combines to form an expert diagnosis system that produces the highest level of web tension measurement confidence available today. The load cell is machined from a high strength corrosion resistant stainless steel to yield a low profile single piece construction that incorporates tubular sensing sections at each end. The cylindrical sensing sections are sealed to meet IP67 standards. Environmental sealing ensures long term reliability for humid, wet or wash down locations.
Features:
Wide range
Space Effective
High overload limit
High accuracy and repeatability
Suitable for both live and dead shaft rollers
Ideal for low to high tension applications
Built-in low friction, self aligning bearings
On-line sensing through digital indicator
Model: BWB-L-09
BWB-L-09 series load cells measure low resultant tension forces with small wrap angles. Designed for use in applications such as winders, unwinders, rewinders, coaters, laminators and printing presses, they eliminate drift and frequent recalibration problems often encountered with conventional half-bridge semiconductor type load cells.
Full wheatstone bridge, temperature compensated strain gauge construction enables precise accuracy with genuine "non-drift" signal stability. BSB-L-09 load cells are of a rugged compact size with overload capacity. Outline dimensions are identical to existing equipment, thereby making possible simple, drop-in replacement.
Features:
Stainless steel construction
Sensitive to high and low tension
360 degree overload stop protection
Wide load range from 5kg to 500kg
High output, excellent linearity, low hysteresis
Supplied with industry standard bearings
Unique design compensated for shaft expansion, misalignment and bending
Model: BWB-P-09
The horizontal pillow block series load cells for the web tension processing industries have the same dimensions as conventional load cells and mount in the same way. But they measure only the horizontal force component of the web tension. Unlike load cells that measure along the vertical axis, they are not forced to sense roll weight along with the web tension. So, these load cells can be sized to the tension level alone, and function at the high end of their measuring range, where load cells perform best. The result: always optimal tension measurement performance- even when rolls are heavy and tension light.
Features:
Quality load cells that eliminates drift and recalibration
Wide Operating range
Easy to Apply