Check weighing Scales
Model: XD / XR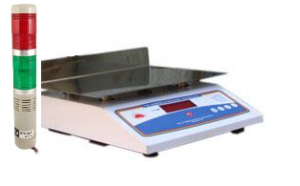 Check Weighing Scales are Digital Weighing scales with built in function of set-points and tower light to indicate the status of the weight kept on scale with the range fed into the scale. The user can feed the lower and upper range for the check weighing function and the scale will flash lower red light if the weight is less than the specified limit, Green light will flash if the weight is within the specified range and upper red light will flash if the weight is above the specified range. Audible warning is also available with the tower light. Only two indications for "GO" or "NO GO" are also available. Check weighing scales can also be connected with PLC or Conveyor systems to enable the rejection feature of rejected materials.
The scale without tower light and with LED indicators on the front panel also available with same function. Both table top and platform scales in different capacities and platform sizes are available with this function.
Technical Specification of the Scales are:
Type: Table top and Platform
Capacity: As per requirement
Accuracy: As per industry standard
Set points: Two (lower limit and upper limit settable through keypad of the scale)
Indications: Two / Three coloured Tower light or Front panel LED indicators.
Audio warning: yes
Power source: 220VAC/50Hz
Optional: Bluetooth, Wireless, Relay output, RS-232, RS-485, Data logger in pen drive.