Check Weighing Systems
Our Check weighing systems  can be classified in to two major types:
1. Static type Check weighing System (SCW-05)
In static type check weighing system, the system is static and is not mounted on any conveyor or belt. The commodity to be checked for weight is placed in the system manually or automatically and the system reads the weight of the commodity and gives the signal of "LOW", "IN RANGE" and "HIGH or Simply "PASS" or "FAIL" as per the setting fed into the system. If the weight of the commodity falls within the range fed into the system by user, the "PASS" or "IN RANGE" signal is given and if the weight is below then "LOW" and if high then "HIGH" or "FAIL" signal is given. To indicate the signal, a two way tower light or LED for simple pass fail indication or a three way tower light or LEDs along with buzzer to indicator low, in range or high signals is provided.
The system also has the possibility to send the data of OK or REJECTED weights to the PLC or Computer system or alternatively the data can also be recorded into the pen drive attached directly to the system and data can be downloaded to the system later.
There is provision to program the system from Serial port or bluetooth device where it is not possible to access the system for programming of the set point data.
2. In-motion type check weigher (MCW-05)
In in-motion type of checkweigher systems, the weighing frame is place in between the conveyor, belt or rail on which the product is moving. The weight of the product is determined as per the criteria fed into the system by user and necessary action is taken like accept the product or reject it.
These systems can also be interlinked with PLC or computer system where a rejection mechanism can also be incorporated into these systems where the system becomes fully automatic which can reject the products whose weight is not within the range.
3. Low Cost Check weighing Scales: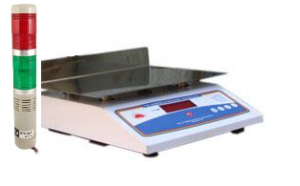 These are Digital Weighing scales with built in function of set-points and tower light to indicate the status of the weight kept on scale with the range fed into the scale. The user can feed the lower and upper range for the check weighing function and the scale will flash lower red light if the weight is less than the specified limit, Green light will flash if the weight is within the specified range and upper red light will flash if the weight is above the specified range. Audible warning is also available with the tower light. Only two indications for "GO" or "NO GO" are also available.
The scale without tower light and with LED indicators on the front panel also available with same function. Both table top and platform scales in different capacities are available with this function.